Taking place once every five years, the A.A. International Convention marks the anniversary of Bill W.'s first meeting with Dr. Bob and the birth of Alcoholics Anonymous in 1935. A.A. members and their families and friends from around the globe attend the event. At the International Convention people attend meetings, workshops, dances and events. A highlight is the traditional flag ceremony to celebrate sobriety worldwide.
Next Convention: 2025 in Vancouver, British Columbia, Canada
Vancouver will welcome A.A. members from around the world for the 2025 International Convention. This will mark the 90th anniversary of the beginning of our Fellowship's founding. The International Convention will take place from July 2 - 5, 2025, at the Vancouver Convention Center and BC Place Stadium.
As the Convention approaches, we will update our website with registration information. Let's celebrate sobriety together in Vancouver in 2025!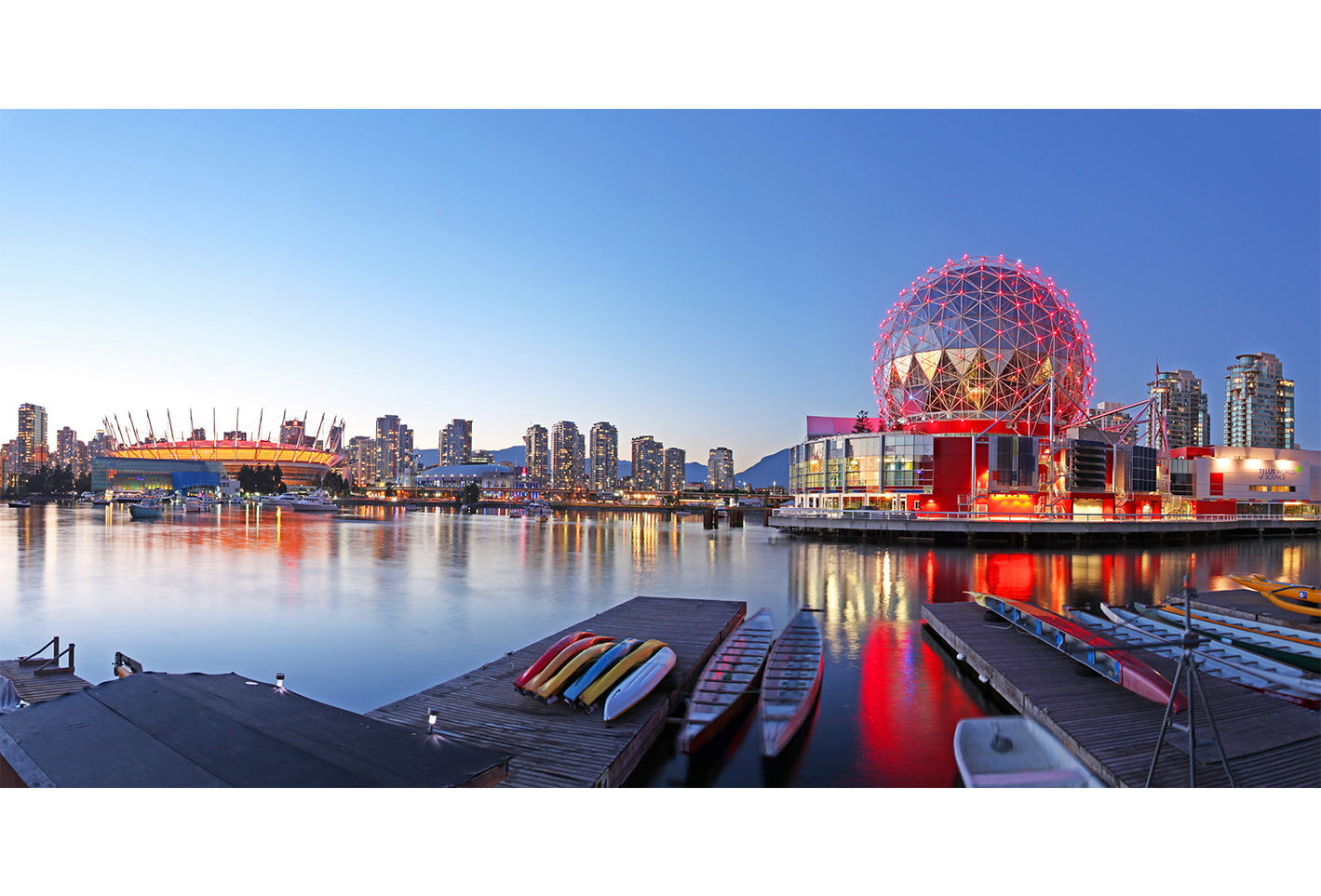 History of A.A. International Conventions
International Conventions, steadily growing in size, have been held since 1950. That year, 3,000 A.A. members, including Bill W. and Dr. Bob., gathered in Cleveland, Ohio.
Attendance at Conventions has grown steadily since.  Most recently, in 2015 in Atlanta, Georgia, an estimated 57,000 A.A. members attended. The convention had 5,000 volunteers - some local, others from distant states and countries.
As usually happens at A.A.'s International Conventions, attendees virtually took over the city, filling hotels and crowding the coffee shops. A.A. members enjoyed many activities - live music, dances, hospitality rooms, and more than 250 meetings, which were held in more than 10 languages, including ASL (American Sign Language). 
As soon as I walked into the registration hall, I knew this weekend would be like no other in A.A. Everywhere people were smiling, laughing and hugging one another. Excitement filled the air. Until that day, I hadn't realized just how big A.A. really is."
— A.S., Middletown, PA Grapevine, December 2016
Unfortunately, the 2020 International Convention in Detroit, Michigan, had to be canceled due to COVID-19 pandemic. An online International Convention Experience was hosted on aa.org instead.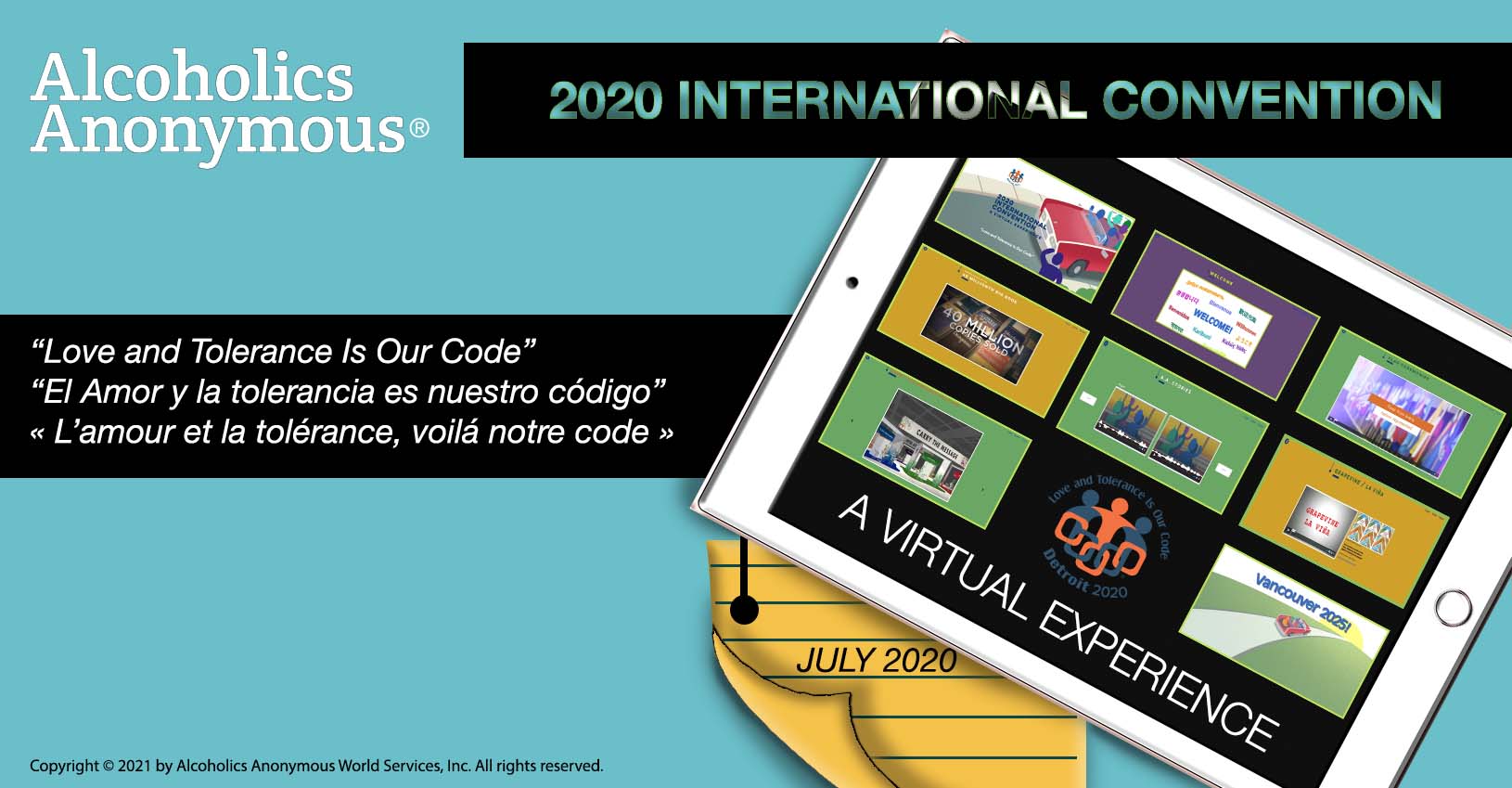 Past Conventions

| Date | Location | Themes |
| --- | --- | --- |
| July 28-30 , 1950 | Cleveland, Ohio | 15th Anniversary |
| July 1-3, 1955 | St. Louis, Missouri | 20th Anniversary |
| July 1-3, 1960 | Long Beach, CA | Recovery, Unity, Service |
| July 2-4, 1965 | Toronto, Ontario, Canada | Responsibility |
| July 3-5, 1970 | Miami, Florida | Unity |
| July 4-6, 1975 | Denver, Colorado | Let It Begin With Me |
| July 3-6, 1980 | New Orleans, Louisiana | The Joy of Living |
| July 4-7, 1985 | Montreal, Quebec, Canad | Fifty Years With Gratitude |
| July 5-8, 1990 | Seattle, Washington | 55 Years - One Day At A Time |
| June 29-July2, 1995 | San Diego, California | A.A. Everywhere - Anywhere |
| June 29-July 2, 2000 | Minneapolis, Minnesota | Pass It On - Into the 21st Century |
| June 30-July 3, 2005 | I Am Responsible | Toronto, Ontario, Canada |
| July 1-4, 2010 | A Vision For You | San Antonio, Texas |
| July 2-5, 2015 | Atlanta, Georgia | 80 Years - Happy Joyous and Free |