A.A.'s Responsibility Statement
I am responsible, when anyone, anywhere reaches out for help, I want the hand of A.A. always to be there. And for that: I am responsible.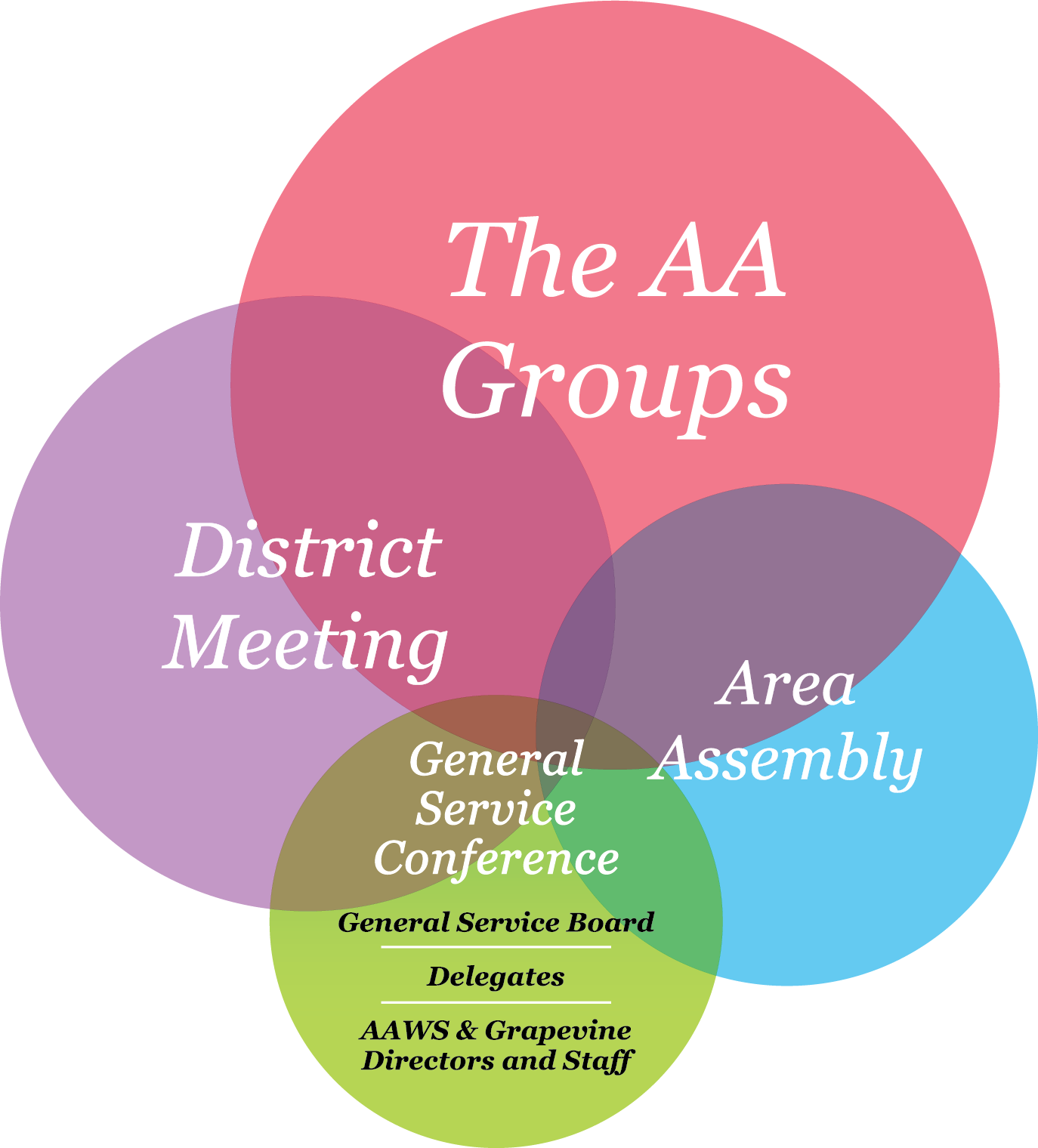 Service in the Group
In A.A., everything starts with the group — it is the place where recovery begins for most alcoholics and is the basic building block of the entire Fellowship. But, for a group to keep going, all kinds of service must be done.
It is through the combined efforts and ongoing commitment of group members that:
A meeting place is readily available and maintained
Meetings are arranged for the benefit of the alcoholics in attendance
Calls for help are answered
Voluntary contributions are collected to keep the group and the Fellowship going financially.
Literature is provided for all members and lists of local group meetings are made available.
Continuing contact is sustained with the rest of A.A.
The A.A. group
The entire structure of A.A. depends upon the participation and conscience of the individual groups.
Service Beyond the Group
General Service Representatives (GSRs)
The general service representatives (GSRs) of the U.S. and Canada are the foundation of our general service structure. Just as members make up a community, each A.A. group is part of a larger whole. Through your GSR, you can make your group's voice heard.
Each group's GSR usually participates with the GSRs of other local groups in regular district meetings. There the GSRs discuss plans and make decisions on how to best serve the local groups. They also learn more about what is happening in A.A. world service. GSRs also take part in area assemblies. They give input to those who represent your area at the General Service Conference.
District Committee Members (DCMs)
Each district has a leader of the district committee of GSRs called the district committee member (DCM) Thanks to the participation of the GSRs, the DCM is exposed to the group conscience of that district.
These DCMs are essential links between the group GSRs and the area delegate to the General Service Conference. DCMs pass on their district's thinking to area committees and service workers. They carry information back to local GSRs, who in turn keep their group members informed on various A.A. issues.
Service Committees
Many groups, districts, and areas carry the A.A. message into treatment settings and correctional institutions. The goal is to ensure that the A.A. message reaches those who may be the most in need. Often organized by A.A. service committees, this work may involve working with professionals or other non-A.A. members.
Groups often provide speakers to go into these institutions. They can also provide contacts for A.A. members who are released from these institutions. This helps them to make contact with A.A. in their communities when they get out.
How A.A. Service is Organized

Frequently Asked Questions