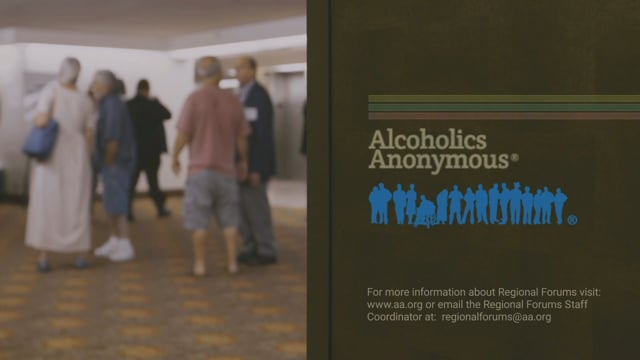 Regional Forum Video
Regional and Local Forums provide unique opportunities for A.A. members across the U.S. and Canada to connect with people throughout the A.A. service structure. At forums, members can exchange information with representatives of the General Service Board, A.A.W.S., AA Grapevine and GSO.
Please Note: The Regional Forums Registration system will be undergoing maintenance on Saturday, July 8, 2023.
Regional Forums
Regional Forum events allow members throughout the service structure to exchange information. They bring together:
The General Service Board
A.A. World Services, Inc.
A.A. Grapevine, Inc.
The General Service Office and Grapevine staff
A.A. members
Newcomers to service
Trusted servants
Started in 1975, these unique gatherings happen four times a year. Each forum occurs in one of the eight regions of the U.S. or Canada that has extended an invitation. The regional trustee, area delegates and GSO decide on the location and agenda for Regional Forums. Together, the forums coordinator at GSO, the local A.A. host contact, and the regional trustee coordinate the details of the Forum.
See a sample Regional Forum agenda here.
There is no registration fee for A.A. members for Regional Forums. The General Service Board covers the expenses of meeting rooms. In some cases, trusted servants may have travel expenses covered by area committees, districts and groups.
Regional Map of U.S. and Canada
The U.S./Canada service structure has ninety-three areas that are part of one of eight regions. A Regional Forum is held in alternate years in each region on a rotating basis.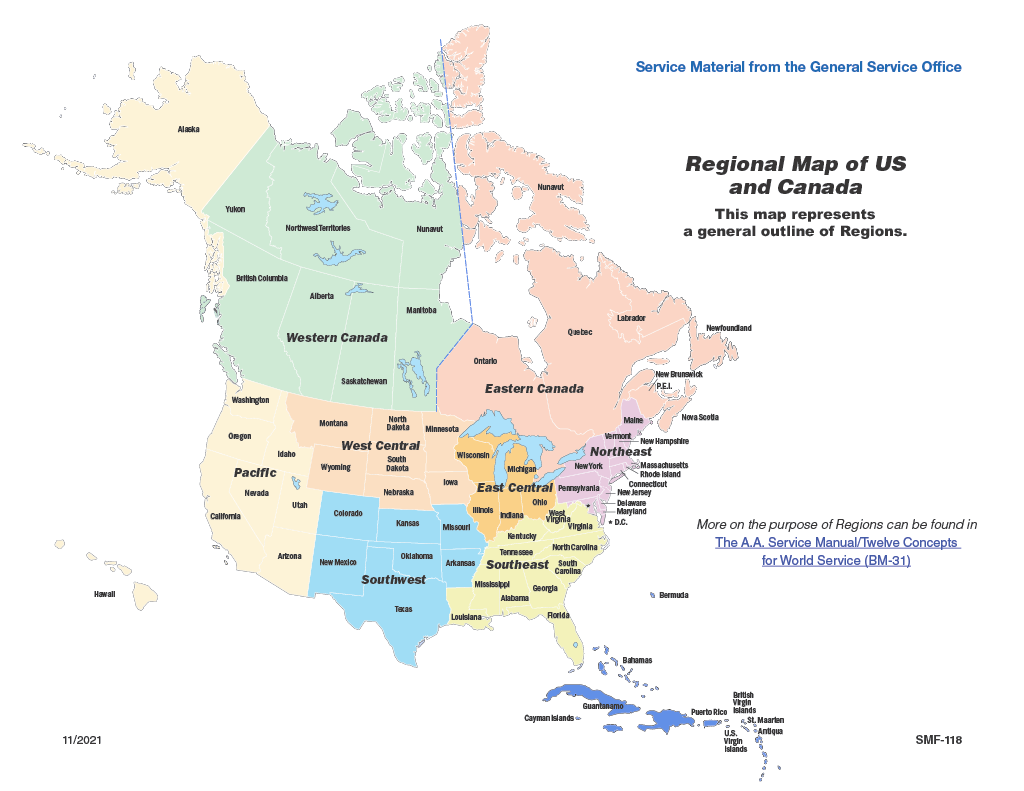 2023 Regional Forums

| Date - 2023 | Region | Location |
| --- | --- | --- |
| June 2-4 | Northeast | Boston Marriott Burlington Boston, MA |
| August 25-27 | West Central | Hilton Garden Inn Missoula, MT |
| September 29-October 1 | Southwest | Radisson El Paso Airport Hotel El Paso, TX |
| November 17-19 | East Central | The DoubleTree by Hilton Independence, OH |
2024 Regional Forums

| Date - 2024 | Region | Location |
| --- | --- | --- |
| May 10-12 | Western Canada | Prestige Vernon Lodge Vernon, B.C., Canada |
| July 12-14 | Pacific | Westgate Resort & Casino Las Vegas, Nevada |
| August 23-25 | Eastern Canada | Delta Hotels by Marriott Ottawa, ON |
| December 6-8 | Southeast | Golden Nugget Biloxi, MS |
Local Forums
Local Forums, a scaled-down version of Regional Forums, are organized on the local level with help from GSO.
These smaller events support A.A. communities who can't attend regular Regional Forums. Local Forums provide a Forum experience to meet cultural, accessibility and population needs of A.A communities. Local Forums may take place in remote areas or in any underserved A.A. community. 
Any A.A. community or service entity may request a one-and-a-half or two-day Local Forum.
The Regional Forums coordinator at GSO works with the Local Forum organizing committee. Together they create an agenda that is responsive to local needs.
Unlike Regional Forums, the Local Forum Committee covers Forum expenses such as meeting room costs. The General Service Board displays literature at Board expense.
Forum Reports
All Forums are essentially sharing sessions in which members can ask questions, spark ideas, and discuss matters. No formal actions result from these Forums. Regional and Local Forums aim to improve communication at all levels within a region. The sharing at Forums is captured in Forum Final Reports, which are distributed to all attendees. You can find past Forum reports here.
The Regional Forums Desk at GSO