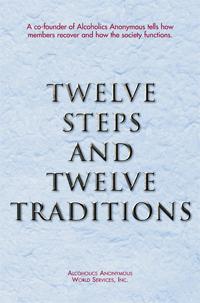 Twelve Steps and Twelve Traditions explains the 24 basic principles of Alcoholics Anonymous. Known as the "Twelve and Twelve," the book dedicates a chapter to each Step and each Tradition. Chapters provide an interpretation of these principles for personal recovery and the organization of the group.
We are experiencing some technical issues with audio streaming on aa.org. Our team is working to fix the problem. This affects the audio files for:
The Big Book
Twelve Steps and Twelve Traditions
Living Sober
Due to this issue, we have an alternate set of links where you can access the audio:
When the issue is fixed, there will be a "Listen" tab added to the Big Book, Twelve Steps and Twelve Traditions, and Living Sober pages to make sure all formats of the book are available in one place.
Purchase Options
Explore the Twelve Steps and Twelve Traditions
Foreword

Twelve Steps and Twelve Traditions ASL - Introduction

Twelve Steps and Twelve Traditions ASL - Foreword

Twelve Steps

Twelve Steps and Twelve Traditions ASL - Step One

Twelve Steps and Twelve Traditions ASL - Step Two

Twelve Steps and Twelve Traditions ASL - Step Three

Twelve Steps and Twelve Traditions ASL - Step Four

Twelve Steps and Twelve Traditions ASL - Step Five

Twelve Steps and Twelve Traditions ASL - Step Six

Twelve Steps and Twelve Traditions ASL - Step Seven

Twelve Steps and Twelve Traditions ASL - Step Eight

Twelve Steps and Twelve Traditions ASL - Step Nine

Twelve Steps and Twelve Traditions ASL - Step Ten

Twelve Steps and Twelve Traditions ASL - Step Eleven

Twelve Steps and Twelve Traditions ASL - Step Twelve

Twelve Traditions

Twelve Steps and Twelve Traditions ASL - The Long Form

Twelve Steps and Twelve Traditions ASL - Tradition One

Twelve Steps and Twelve Traditions ASL - Tradition Two

Twelve Steps and Twelve Traditions ASL - Tradition Three

Twelve Steps and Twelve Traditions ASL - Tradition Four

Twelve Steps and Twelve Traditions ASL - Tradition Five

Twelve Steps and Twelve Traditions ASL - Tradition Six

Twelve Steps and Twelve Traditions ASL - Tradition Seven

Twelve Steps and Twelve Traditions ASL - Tradition Eight

Twelve Steps and Twelve Traditions ASL - Tradition Nine

Twelve Steps and Twelve Traditions ASL - Tradition Ten

Twelve Steps and Twelve Traditions ASL - Tradition Eleven

Twelve Steps and Twelve Traditions ASL - Tradition Twelve