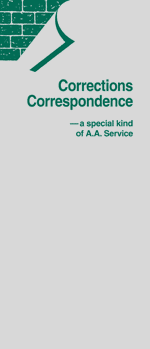 F-26 Information and sign-up for "Outside" A.A. members
The Corrections Correspondence Service links A.A. members who are incarcerated with A.A. members on the outside so that both can share their experience, strength, and hope with each other. For inmates, it's a way to get valuable guidance in staying sober through the A.A. program and a sense of the A.A. Fellowship. For "outside" members, it's a way to take part in corrections work even if they don't live near a facility. Many find it to be immensely rewarding service work.
NOTE: Most of the inmates who want an outside correspondent are men, so women who volunteer may have a very long wait for an inmate.