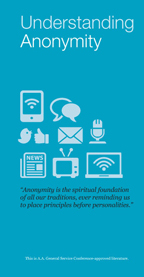 P-47 Understanding Anonymity
This pamphlet explains how anonymity serves as both a safeguard at the personal level and a spiritual principle at the public level, and outlines what this means for A.A. members both within A.A. and outside of it. Includes FAQs on social media and the Internet, as well as suggestions for dealing with friends and family.
General Service Conference-approved.